"Our Small Garden" by Joyce and Alan Nightingale
The photo below shows the garden as it was when we moved in. As you can see, at the back of the garden we had a fairly steep granite bank which had to be addressed so that I could plant on the top of the bank.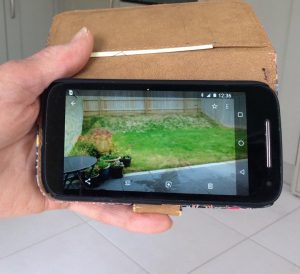 I did a design keeping that in mind and I also needed a shed and a utility area for compost bins, wheelbarrow, plant pots etc which would not be on view.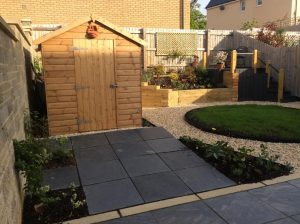 We were very lucky to find a landscape gardener who was happy to follow my plan and suggested cutting into the granite bank and making a utility area which has been very successful.  He also created a path on the higher level which has enabled me to plant shrubs against the back fence and also to plant the fairly steep area below.
Access to the higher level is via steps on to a decking with lovely views towards the Moor.
We have chosen small shrubs and plants as the garden is not large and we do not want it to look overcrowded.
Many thanks to Joyce and Alan for their description of their now lovely garden.
.