---
BOVEY TRACEY GARDEN CLUB AUGUST 2020 SUMMER SHOW
I am writing this on Thursday August 13th, just two days before the Summer Show was originally scheduled. This would have been a very different week if it were not for Covid-19. Today the marquee would have been erected, and tomorrow all the trestle tables would have been measured out according to how many entries had been received in each class. Parke Meadow would have been a hive of activity, full of helpers erecting tents, connecting our water supply, making sure that the generator was working properly.
However, whilst we are greatly missing holding our annual Summer Show this weekend, and all the glorious blooms and produce that would have been on display there for everyone to enjoy, we look forward to 2021 and hope that the town will join us in making it an occasion to celebrate BoveyTracey's gardening and creative talents.
Below are a few photos to remind you of the last Summer Show.
Liz Stockwell, Show Secretary
---
In view of the Government's instructions regarding the current Corona Virus outbreak the Bovey Tracey Garden Club has, with great reluctance, agreed to cancel their annual Summer Show. We would find it impossible to keep to social distancing and the committee felt that they did not want a 'diluted' or 'watered down' version. However, the committee is now planning for next year and would like to make the Show bigger and better than before as a tribute to the town.
You now have plenty of time to plan your exhibits whether they are flowers, fruits, vegetables or domestic. This is something to look forward to and the Show Committee is certainly planning a big welcome for you.
At the moment our monthly talks for members are also cancelled but we do hope to resume meeting sometime in the Autumn, Government permission. Those of you who are not members are very welcome to join.
Julia Mooney
Chairman, Bovey Tracey Garden Club
---
We are delighted to welcome our new Show Secretary, Liz Stockwell. You can contact her via the Contact Us tab above. Marion Edwards, our retiring Show Secretary will be supporting Liz in any way she can.
The Summer Show 2019
Once again we were fortunate with the weather on Show Day, after a rainy week culminating in heavy rain on the day before the Show, when there is so much to do.
Many thanks for everyone who helped in some way- there are too many to mention but we do thank each and every one of you.
Some photos from the Show below. Click on the first one to see them one by one.
The RHS Banksian Medal for the entrant who won most points in the horticultural divisions (A, B and C) in the Summer Show was won by Julia Mooney.
The Banksian Medal is named after Sir Joseph Banks, the famous English naturalist and botanist, who accompanied Captain Cook on his first voyage.
We will be awarding a Banksian Medal every year and no one can win it twice in a three year period.
Entries were down again this year – 630 compared to 790 last year and both of the horticultural division judges said that every show they had judged at this year was the same. Both, however, commented on the good standard of the entries, so we wait to see what happens next year.
---
OUR MENTORING SCHEME
Entering a horticultural show for the first time can be a little daunting, and even if you are  an experienced grower you might occasionally like a little advice. The Garden Club offers advice with growing and/or showing your produce. Among our members are people who can advise on almost any of the nearly 100 classes in divisions A, B and C in the Summer Show.
Lynda, our membership secretary and super-winner in 2018  has kindly offered to participate in this scheme.
Please contact Lynda in the first instance, and she will ensure that you are put in touch with someone who can help you.
A message for makers of jams, curds, pickles and chutneys
Historically our schedule booklet has said in the hints that if you use a screw top jar you should not also use a waxed disc. I know that a number of entries were disqualified for doing just that and I am sorry about that. A hint is not a rule (as I said in the booklet) and while you should have been "marked down" you should not have been disqualified.

I emailed the judge just after the Show to ask why it is wrong to use both a screw top and a waxed disc and the answer was that there is no (food safety or taste) reason. I don't like unnecessary rules and we will revise this for next year. Apparently there are no "official" recommendations – I could not find anything on the WI website, for example.
From my trawling of the internet preserving sites, it seems to be advisable to fill your jar as full as possible (the less air the less the risk of contamination) and use a new lid (to ensure an airtight seal). Modern lids are plastic-lined and so are safe to use with vinegar-based preserves. If you want to use a wax disc and a cellophane cover, then that is fine. Please note that curds such as lemon do not keep for long and should be made shortly before the show. I suggest you check your jam before the show as we did have one with mould on it, which was correctly disqualified. Click below to open a website with more information.
Have a look at this site on the use of jam jars.
Bovey Tracey Summer Show 18th August 2018
We were blessed with an almost perfect day for this year's Show. Not too hot and not too cold. Only a few drops of rain during the morning, but none during the afternoon of the Show.
Entries were a little down on last year and this was anticipated because of the hot and dry summer. Our gardeners, however, did amazingly well and both the fruit and veg judge and the flower judge thought the entry quality was very good.
The marquee went up on the Thursday.
Friday was spent laying out the tables and soaking the photo boards so we could press drawing pins into them. Frankly, that didn't work very well; maybe the boards were ultra dry because of the weather.
We had 770 entries, and they all (or nearly all) arrived early on Saturday morning.
Judging was from 10 until 12 am and the gates opened at 1.30 pm
Some photos from around the field: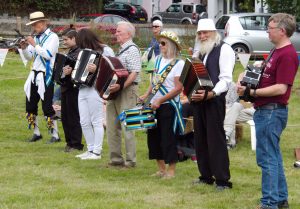 The Torbay Brass Band has entertained us at the Show for many years.
The Newton Bushel Morris are always entertaining and have fun performing for us.
 Our Mayor entered the Show for the first time and won two trophies.

Photos courtesay of Brian Edwards. Lots more photos below.
More photos below. If you have a photo of the lovely black alpaca, and you are happy to have it here, please send it to me!
Anonymous Complaint
The Club Chairman received an anonymous letter after the Show complaining that Club members won all the trophies. We wish to make clear that the judging is carried out in secret – the judges do not know the identity of the entrants. Division A is open only to people living in Bovey Parish and to club members. All other seven divisions are open to all.
At the 2017 AGM a year ago, three perpetual cups were awarded (these are presented to anyone winning the same trophy three years running). Two of the three people receiving a cup were not members (and one of them was a junior).
Naturally people interested in gardening tend to be members. The Club aims to help people improve their gardening skills and our members are very happy to offer advice to people wishing to enter the spring or summer show.
The annual subscription is only £10, so perhaps the answer for our anonymous complainant is to join.