Dear members,
We've all had so much time to garden, our gardens are looking as good as they can be. If there is part of your garden you are proud of, or even a single wonderful flower, please send me a photo, and I will post it on Our Gardens.
Keep safe everyone.
Your webmaster
---
A VERY HAPPY AND HEALTHY 2020 TO ALL GARDEN CLUB MEMBERS AND THEIR FAMILIES
---
DAFFODILS IN DECEMBER?
The photo below was taken at St. Mary's Well Garden on the last day of 2019! The garden is tended by Richard Taylor on behalf of the Garden Club.
---
BOVEY TRACEY GARDEN CLUB
ANNUAL GENERAL MEETING NEWS UPDATE
Members were sorry to hear at the AGM that our Show Manager, Nigel Gillingham, Show Secretary Marion Edwards and Business Secretary Linda Jackson have all decided to step down for various reasons as from December 2019. We would all like to thank them most sincerely for their hard and enthusiastic work particularly in organising the Summer Show. This leaves the Chairman, sole member of the Show Committee (sub- committee of the main committee)! If anyone would like to help please get in touch with the Chairman. We've already had an article published in the Western Morning News on this very subject but no response so far.
At every AGM the current committee is re-elected en-bloc and I have pleasure in reporting that our remaining committee have agreed to serve plus one new member which is excellent news. The committee has therefore been re-elected for a new year:-
The new committee will hold their first meeting of the year on 20th January 2020
Julia Mooney (Chairman)
Gillian Millington (Secretary)
Peter Francis (Treasurer)
Show Secretary (vacant)
Show Manager (vacant)
Business Secretary (vacant)
Lynda Pewsey (Membership Secretary)
Richard Taylor (representing Bovey in Bloom)
Diana James (catering)
Pamela Walker (catering)
Liz Nethersole (new member)
The December meeting for members will welcome a professional and horticulturalist speaker to talk on the Restoration of Hestercome Gardens followed by tea/coffee and festive Mince Pies.
The January meeting – 20th January 2020 have invited a speaker from the Barn Owl Trust and he will remind gardeners of what they can do to encourage nesting Barn Owls in their gardens. From February onwards talks will be more gardening orientated when the new gardening season finally gets underway. More on this subject another time.
On behalf of members and the committee may I wish you all a Very Merry Christmas and a Happy New Year.
Julia Mooney
Chairman, Bovey Tracey Garden Club
Please send contributions for this website to Marion
---
Sky Garden – London's highest public garden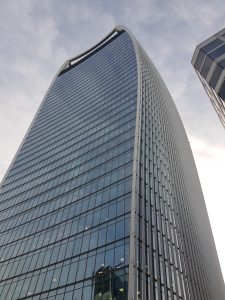 Situated on the top of 20 Fenchurch Street in the City of London, this garden is a delightful place to visit while in London. It is free but it is best to book in advance at https://skygarden.london/. The nearest underground station is Monument.
Turn up 20 minutes or so before your reserved time as there is likely to be a bit of a queue to go through security and wait for one of the huge lifts which will whisk you to the 35th floor.
The Garden is attractive, lots of tree ferns and strelitzia and there are plenty of places to stop for a seat as you climb up the garden, which  occupies about three storeys.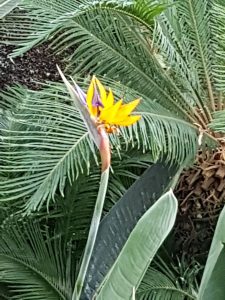 There is an open terrace for views of London, or you can stay inside and get 360 deg views as you walk around the garden.
There are a couple of restaurants (pricey but the menus looked good) and you can spend as long as you like in the Garden.
The views are stunning, as you can see.
---
Annual General Meeting 2019
The 2019 AGM was held on Tuesday 12th November in the Methodist Church Hall, Bovey Tracey. Refreshments were kindly provided by the Committee members. The first photo below shows the Chairman, Julia Mooney, giving her annual Report. On her right is the Treasurer and on her left the Secretary.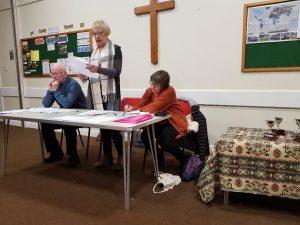 Any entrant (including non-members) who wins the same trophy in the Summer Show three years running is presented with a small trophy to keep. The two photos below show the trophies and the winners who were:
Lynda Pewsey three times winner of the P&W Waldron Cup for 1st in Division C (flowers)
Lynn Dunnell three times winner of the Jean Elliott Cup for handicraft
Roger Hottot three times winner of the Sir Ben Smith Rosebowl for roses
Nigel Gillingham three times winner of the Brookfield House Cup for fuchsias
Julia Mooney three times winner of the Cyril Groom Memorial Trophy for a planted container
Roger Hottot is missing from the photo below as he and Jenny spend their winters in Australia.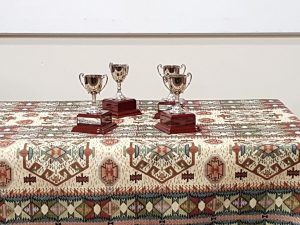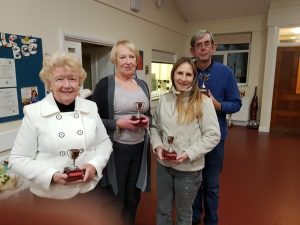 The Club is looking for a new Show Secretary to replace Marion Edwards who is retiring from the role after six years. Marion is happy to help the new Secretary in every possible way, including doing the more complex computer stuff. If you are good at organising and would be interested in knowing more about the role, please contact Julia Mooney.
---
Gail Banham and Jeanette Pearce have (28th July) been to Wildside and sent me this lovely photo of agapanthus in the Canyon Garden
---
My new Begonia apricot shades (grown from corms started off in February) from Thompson and Morgan have turned out to be pink and upright rather than orange and pendulous. What a disappointment. They have just sent me a replacement – 15 small plug plants which are of little use in mid-July. Will not be buying from them again!
---
---
Folks, if you were inspired by Peter Burks' talk to go and buy some Jack's Magic Compost, you may interested to know it is currently £6.99 for a single 60 litre bag at Fermoy's and £3.99 for the same size at Trago Mills!
From Marion Edwards and Nigel Gillingham .
---
A very warm Garden Club welcome to our new Secretary, Gillian Millington
---
 St. Mary's Well Garden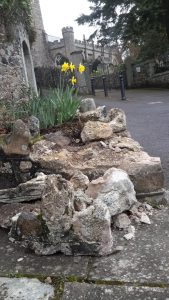 You may have noticed that someone has driven into the corner of the flowerbed nearer to the Church! It needs professional repair as the mortar is drying out and much of the wall is therefore weak. It turns out that the area is not owned by the owners of Church Style, and the Town Council has been asked who is responsible for maintenance of this attractive area.
We are hoping the wall will be repaired before the plants Richard Taylor put in last year come into flower.
Update: the wall has now been repaired; the owners of Church Style kindly paid the bill. It turns out that no one actually seems to own this bit of ground! The Town Clerk has suggested that if (when) this happens again he applies for a grant to cover any work needed.
---