What's Happening
The 2019 AGM will be held on Tuesday 12th November from 7.30 in the Methodist Church Hall. Refreshments, kindly provided by the Committee, will be served at the end of the Meeting.
---
The Club is looking for a new Show Secretary to replace Marion Edwards who is retiring from the job after six years. Marion is happy to help the new Secretary in every possible way, including doing the more complex computer stuff. If you are good at organising and would be interested in knowing more about the role, please contact Julia Mooney.
---
Gail Banham and Jeanette Pearce have (28th July) been to Wildside and sent me this lovely photo of agapanthus in the Canyon Garden
---
My new Begonia apricot shades (grown from corms started off in February) from Thompson and Morgan have turned out to be pink and upright rather than orange and pendulous. What a disappointment. They have just sent me a replacement – 15 small plug plants which are of little use in mid-July. Will not be buying from them again!
---
---
Folks, if you were inspired by Peter Burks' talk to go and buy some Jack's Magic Compost, you may interested to know it is currently £6.99 for a single 60 litre bag at Fermoy's and £3.99 for the same size at Trago Mills!
From Marion Edwards and Nigel Gillingham .
---
A very warm Garden Club welcome to our new Secretary, Gillian Millington
---
 St. Mary's Well Garden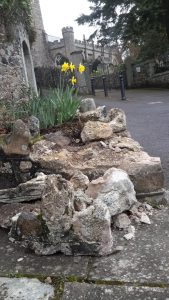 You may have noticed that someone has driven into the corner of the flowerbed nearer to the Church! It needs professional repair as the mortar is drying out and much of the wall is therefore weak. It turns out that the area is not owned by the owners of Church Style, and the Town Council has been asked who is responsible for maintenance of this attractive area.
We are hoping the wall will be repaired before the plants Richard Taylor put in last year come into flower.
Update: the wall has now been repaired; the owners of Church Style kindly paid the bill. It turns out that no one actually seems to own this bit of ground! The Town Clerk has suggested that if (when) this happens again he applies for a grant to cover any work needed.
---
The 2018 AGM was held in the Methodist Hall, Bovey Tracey, on Tuesday November 13th and was followed by refreshments and a social evening.
For the first time, the Club awarded an RHS Banksian Medal to the entrant who won most points in the horticultural divisions (A, B and C) in the Summer Show. The winner, was Lynda Pewsey, who received her medal from retiring President Angela Tibbs. Note that this award is open to all Show entrants.

The Banksian Medal is named after Sir Joseph Banks, the famous English naturalist and botanist, who accompanied Captain Cook on his first voyage.
We will be awarding a Banksian Medal every year and no one can win it twice in a three year period.
Our President, Mrs Angela Tibbs, joined the Bovey Tracey Horticultural Society (as it then was) 34 years ago and, along with her husband John, served the Club in a number of roles over the years.
Angela has now decided to retire as President and was presented with a beautiful bouquet of flowers at the end of the AGM.
We wish Angela and John health and happiness in the coming years.
---
At the 2017 AGM on 14th November last year, members voted to change the name of our organisation from the Bovey Tracey Horticultural Society to the Bovey Tracey Garden Club.
Share what is happening in your garden. Email me (Marion) and I'll put it on our website.
Molly and Trevor Lucas have a cheeky robin which vists their conservatory (May 2019).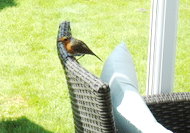 ---
The owners of the garden below Church Stile, Mr and Mrs I. Niblet, have agreed that we should tend the garden there. It comprises two raised flower beds, three flowering trees, two wooden seats, an old-fashioned bus stop, a trough which once upon a time ran with water from St. Mary's Well and a post box in the wall which is surrounded by a flowering plant.
Richard Taylor planted the two beds, and by next year they will look splendid. Richard has also planted and tended five tubs, which were stunning all summer. He has now planted over 100 bulbs, which will beautify the garden in spring.

Horticulturalist Mike Neck, from Dartmoor Heathers and Gardens, has pruned and treated the three trees, helped by Graham Burman. They were badly in need of a prune, and will be further cut back by Mike next winter. Thank you Mike.
By the way, the picture below shows good safety practice.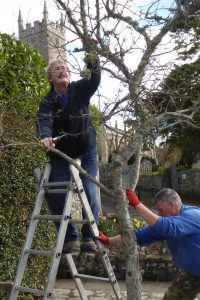 ---
April 2017
A select group of members of the Club spent a very enjoyable day at Toby Buckland's Garden Festival at Powderham Castle (written by Linda Jackson).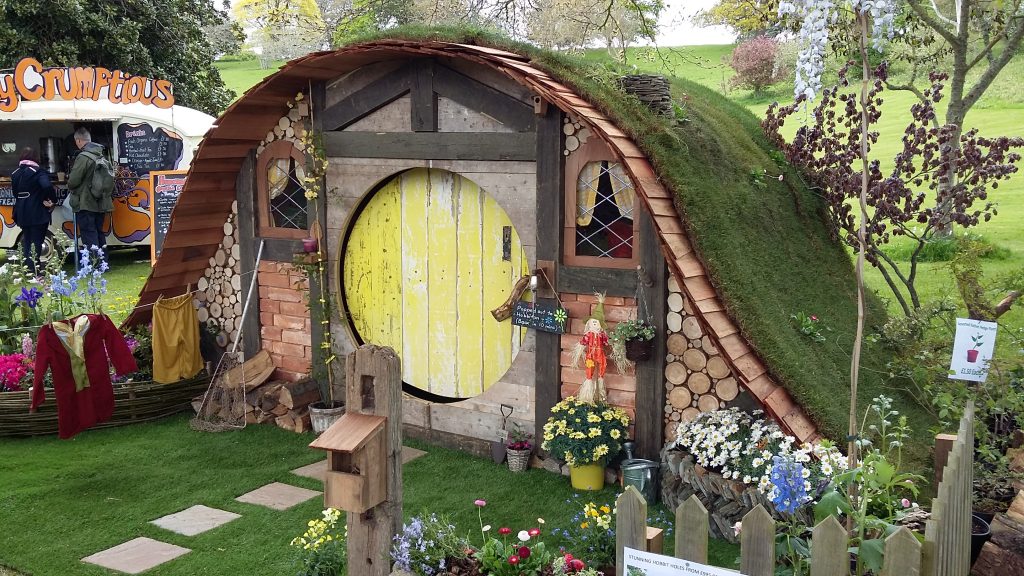 A breeze and initial showers did not prevent a full exploration of the delights on offer.  Nurseries were selling a wide variety of plants from alpines to woodlanders.  There were herbs and vegetable seedlings along with shrubs, roses, herbaceous, bedding and bulbs. Stalls were spread across the beautiful setting and it was easy to find the numerous food and drink opportunities providing a seat to listen to the jazz band between bouts of looking and shopping.
The speakers' marquee was popular, with discussions and talks throughout the day.  Pippa Greenwood and Jim Buttress (RHS judge and author) entertained on Friday.  Not to be missed here was the enormous castle wall covered in cascades of purple wisteria.  Several rooms within the castle housed further craft stalls and a display by the Devon National Gardens Scheme.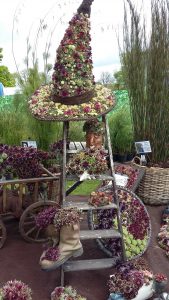 Toby Buckland was mingling with the crowds ready to chat to festival goers. This event has grown slowly in its four years attracting locals and visitors and there were no two stalls alike.  Everything from rusty garden sculptures to the tree surgeons above our heads, cheese products and game for sale next to garden sundries, tools and vintage garden items adjacent to an outdoor cooking demonstration – truly something for everybody.
Several members discovered new and unusual plants and from the carrier bag collection on the coach home it was obvious this had been a very successful day out. With that in mind, the Club may well repeat the experience at Toby's sister show at Forde Abbey in the Autumn.
Our thanks to Linda Jackson for this account of her day out at Powderham Castle.
Visit to Toby Buckland's Garden Festival at Powderham Castle by Sylvia and Colin Brindley
Sixteen members of the Horticultural Society visited the Garden Festival at Powderham Castle on April 28th. We met at the Station Road car park, where Julia, our Chairman, had organised a coach to take us to Powderham. We were slightly worried when the driver had some difficulty in finding the coach drop-off point due to the conspicuous lack of signs around the castle estate. But we arrived and only had a short walk to the Festival.
We all enjoyed a good day, admiring the vast array of plants and gardening equipment at the many (over 100) stalls. The plant stalls covered an extensive range including many of the less common plants and most of us, if not all, were tempted to buy far too many! There were several refreshment stalls/cafes and they provided both refreshment and the opportunity to rest one's legs.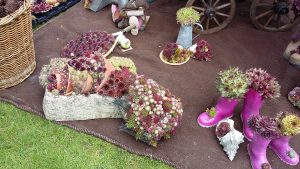 Thanks to the closeness of the coach park to the show, we did not have to carry our purchases the long walk to the main car park. However our fears that the coach coming to collect us would have difficulty finding us were well founded. When she eventually arrived, our driver loaded our many purchases into the luggage compartment and took a country route back to Bovey, avoiding all the traffic.
It was a very happy and successful day. Thank you, Julia, for organising it.
Sylvia and Colin Brindley
Thank you to Sylvia and Colin for their report. Thank you also to Lynda Pewsey for the photographs in these two reports.
---
We now have a Facebook page – Bovey Gardeners BTHS. We are already reaching local people we would not otherwise have reached. Our thanks to Lynda Pewsey.
---
Folks, if you visit a garden you think members would enjoy, let me (Marion) know and I will put it on this page.
---