We had a truly delightful talk on December 10th from David Usher, who knows the Gardens intimately having spent 21 years working there, latterly as Head Gardener.
The House and Gardens, located at Cheddon Fitzpaine near Taunton, are best known as a collaboration between garden designer Gertrude Jekyll and architect Sir Edwards Lutyens but offer more – 300 years of history to explore and enjoy.
To reach the property exit the M5 at Junction 25 and Hestercombe is only 5 miles from the junction – follow the brown signs. David suggested you stop at the Taunton Services and pick up a Hestercombe brochure which gives a discount on the entrance charges. As far as I can see from their website, the full adult entrance charge is £13.30.
From 1391 until 1872 Hestercombe was owned by the Warres family and in 1731 John Bampfylde, MP for Exeter, who had married the daughter of Sir Francis Warre, commissioned plans for a garden. Coplestone Warre Bampfylde designed the Landscape Garden as we see it today, having inherited the estate in 1750.
The last of the Warre family died in 1872 and Hestercombe was acquired by the 1st Viscount Portman who remodelled the house and created the Victorian Terrace and fountain. In 1903 his grandson commissioned Sir Edward Lutyens to create a new formal garden and Gertrude Jekyll designed the planting scheme.
World War I saw many Hestercombe staff in action and in WW II the house and estate housed the read HQ of the British Army 8th Corps. Six barrack blocks were built.
After the death of Mrs Portman in 1951, the administration of the estate was taken over by the Crown Estate Commissioners. Various possible tenants were considered and in 1955 the Somerset Fire Brigade relocated its HQ from Taunton to Hestercombe. Ultimately the Fire Brigade found that too much money was required to run the estate and now it is run by the Hestercombe Gardens Trust.
When David joined Hestercombe in 1983 the Landscape Garden had become overgrown and was difficult to access and John Bampfylde, David and Philip White of the Somerset Wildlife Trust (and now chief executive of the Hestercombe Gardens Trust) won a grant to restore it. Excess wood was cleared out and the pond dredged of its mud – a 10 acre field was covered to a depth of 6 to 8 inches by the mud removed.
Today there are a number of classical and rustic buildings in the Landscape Garden, including the Temple, the Witches of Hestercombe Cabin, the Mausoleum, the Gothic Alcove and the Cascade.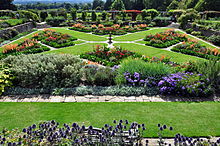 Perhaps the highlight for many people will be the Edwardian Garden designed by Lutyens and planted by Jekyll.