Spring Show 2020

We are sorry to have to say that the 2020 Spring Show has been cancelled – for obvious reasons.
---
Spring Show Saturday 13th April 2019

Our Spring Show this year was affected by the early and warm spring – meaning that there were hardly any daffodils left in our gardens. Only five of our members exhibited daffodils, and while they were lovely the 29 entries did not compare with last year's sea of yellow (113 entries). Still, as every gardener knows the weather is something we have no control over and we did all enjoy the warm weather a month ago.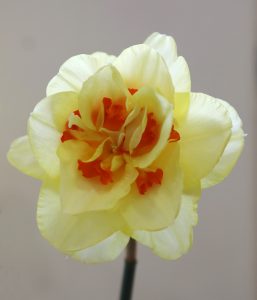 This lovely daffodil, grown by our Chairman Julia Mooney, won Best Exhibit Daffodils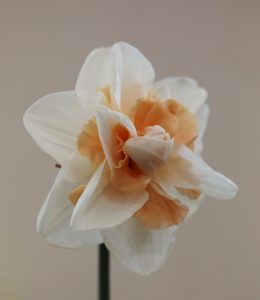 Daffodils come in many different shades of yellow and orange nowadays.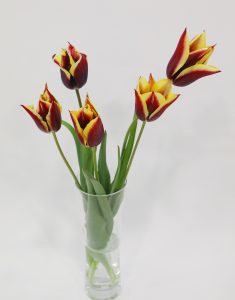 Tulips numbers were similar to last year, as were the other classes except that flower arranging entries were only half of last year's. The quality, however, was as high as usual.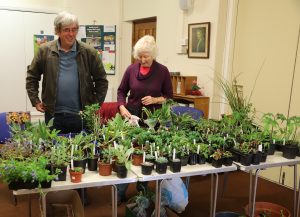 The plant stall was very popular and raised over £200 for Club funds. Thank you to the many members who contributed plants and to Nigel Gillingham and Linda Jackson who did a great job manning the stall.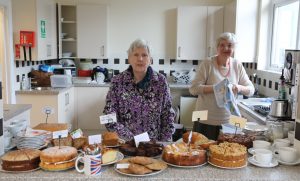 Our members had been busy baking and the tea and cake was particularly welcome on what was a bitterly cold morning.
Thanks to Diana James and Pamela Walker who kept the tea and coffee flowing and to everyone who baked for us.
Here are two of the lovely flower arrangements: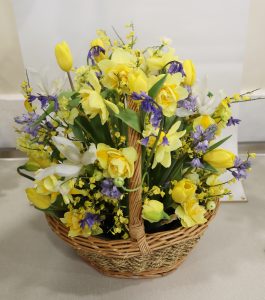 There has been a trend for a reduction in  the number of flower arrangements entered in both the Spring Show and Summer Show. Creating something as beautiful as this entry (which won the Best Exhibit Flower Arrangement) takes much time and money. We greatly value the contribution to the Show made by our flower arrangers.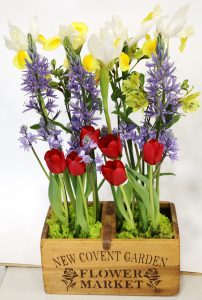 This arrangement won the "Columns of Colour" class and was judged an excellent interpretation.
The trophy winners were:
Most Points Daffodils – Lynda Pewsey
Best Exhibit Daffodils – Julia Mooney
Kath Sagar Salvar – Julia Mooney
Best Exhibit Mixed Flowers – Julia Mooney
Best Exhibit Pot Plant – Jane Mason
Most Points Flower Arrangement –  Jane Mason
Best Exhibit Flower Arrangement – Jane Mason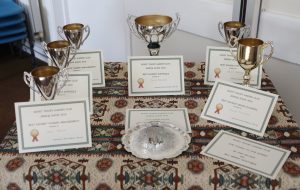 Well done and thank you to everyone who supported the Show