From our Correspondent
"Spring" at Ashwell by Jeanette Pearce
Just a few days before the equinox and the clocks about to go forward – it should have been nearly spring. But why did the garden look a funny colour? Are Devon gardens meant to be covered 20cm deep with fluffy white stuff in mid-March? So much for my list of 20 things to do in the garden before the end of March.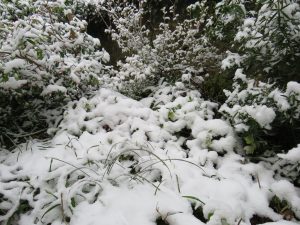 At least I had the comfort of knowing that when I could get through to Newton Abbot, early March's pruning and clearing efforts in a corner of Ashwell's front garden, filling four builder's dumpy bags, would only take two car trips to the recycling dump. Yes, I know I could shred and compost them – but hauling large and heavy bags up steps, gravel paths and slopes to the top of the garden is now beyond me.
Anyway, the compost bins will soon be full of shredded vine prunings from three months ago, when it stops raining.
Some plants are amazingly resilient – the hellebores below saw heavy snow twice in two weeks, but look at them today …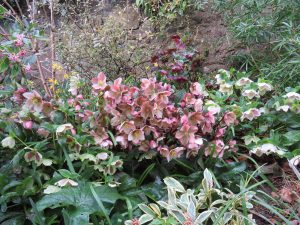 Despite the snow, the camellias are having a good spring and really brighten a dull day. The tête à tête daffodils outside our kitchen window were flattened but sprang up again, unlike some of their taller cousins which broke off or were eaten by slugs under the snow (isn't cold weather meant to kill them off?).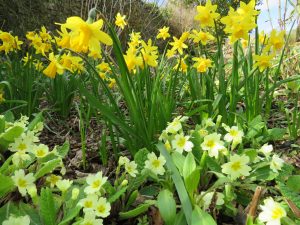 I love these little daffodils. They spring up, multiply and produce more flowers year after year and bring such a bright splash of colour at the same time as the primroses. Maybe some will still be flowering for the Spring Show on 7 April.
Over winter, more vine posts in our vineyard needed replacing than usual – ten broke at ground level when one of September's storms struck the vines in full leaf and before the grapes were harvested.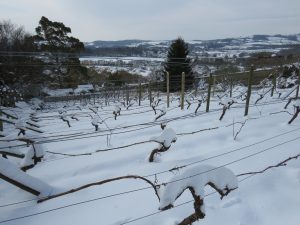 They are a solid 10 cm diameter, three per row, which gives some idea of the weight of the vines breaking them off. In January, as usual, I severely pruned and tied down our 200 or so vines and spent many happy hours digging dandelions, couch grass and creeping buttercups out of the 26 vine beds. This will save work later on, as hoeing will deal with the annual weeds. The view and the changing light made the chilblains worthwhile – probably. This is what the vineyard looked like in the snow – the first time we've seen the snow gather on top of the vines.
Most of this year's planned annuals – from saved seed – have now sprouted in brown plastic mushroom containers in various places in the house. Cosmos came up in three days, followed by rudbeckia, lobelia and petunia. Saved green nicotiana seeds have done well, while last year's bought packet of mixed nicotiana has produced two seedlings. Moral, save your own seeds – it costs nothing (a fellow garden club member gave me her surplus green nicotiana seedlings last year, so this year's are their offspring). Before long, I'll wish I had fewer seedlings to prick out, but the plants seem to be easily absorbed in our many flower beds and pots, and neighbours benefit too.
I always sow too many saved tomato seeds – moneymaker, marmande, black brandy wine and ivory egg (the last two are heritage varieties I first bought as plants at Knightshayes five years ago) – but at least I can choose the strongest plants or give some away. Last year provided a valuable lesson about saving squash seeds, which I have done successfully for years, particularly for Winter Festival.
My revised advice is "Don't", unless you are certain that no bees have flown between different varieties. In 2016 little buffy ball and crown prince decided to get together without letting me know. The result was some small, conical beige squash – pretty, but sour and totally inedible. Always buy fresh squash seed …
The second early potatoes are still chitting in egg boxes in the utility room, wondering why they are so cold. 'Jazzy' certainly deserves planting again, as it keeps very well, has tasty yellow waxy flesh and we are only just finishing last year's crop. My first-ever supply of Jazzy came from a discounted supermarket bag. As well as being cheap 'seed potatoes', they did very well. We are about to eat our last pumpkin but the large white onions – some with stalks wrapped in raffia after entering last August's show – are still going strong.
The red cabbage and calabrese seedlings will soon be moved from the greenhouse to the autumn-composted and recently blood, fish and boned brassica bed for this year. The nets will go over them immediately, as the local wood pigeons are voracious. No 'hungry gap' yet, as cavolo nero, purple broccoli and leeks continue to flourish in the veggie plot. But my succession plan never seems to work properly, as the potatoes should go in the current brassica bed by mid-April.
Last year's apples will provide a few more puds if mixed with blackcurrants or damsons, while frozen greengages, raspberries, gooseberries and rhubarb will last longer still. We are very lucky to have found so much soft fruit in the garden when we moved here in 2012. That reminds me – now it has stopped raining for a couple of hours, I must move some raspberry canes which have come up several feet from the rest.
I have to keep the acre of garden in at least a semblance of good order because, like seven other gardens in Bovey Tracey, we'll again be opening for the National Garden Scheme on 14-15 July. Gardeners are quite comforted by seeing a certain amount of chaos in other people's gardens, but there are limits! You can pick up the Devon gardens NGS booklet at the Information Centre. Come and see us then.