FEBRUARY 2018
COLETON FISHACRE THROUGH THE SEASONS
Martyn Pepper is the National Trust's head gardener at Coleton Fishacre and started there in 2001.
He briefly gave an outline of the history of the garden. It was first established by the D'Oyly Carte family after they had the house built. This was over the period 1924 to 1926. The first job was to plant trees to provide shelter and after that more tender plants could be put in throughout the valley
After the property was taken over by The National Trust, the garden was opened to the public in 1985, and the house was opened in 1990.
Martyn showed pictures of some of the changes to the garden over the years and the different areas, from the gardens immediately close to the house down to the tree ferns down at the bottom of the garden nearer the coast.
He then described some of the winter jobs required each year including required tree surgery to the extensive collection of trees, general clearing of ground and the draining and cleaning out of ponds. They also have to be aware of the plants that need winter protection and start to take cuttings for propagation purposes.
In the Spring they can start more detailed preparation of the flower beds, and start planting, including some of their Mediterranean and African plants. Preparation of the long 'bowling green lawn' border also starts, which is near the house and one of the few flat areas in the garden! One danger they have to be aware of is the risk of 'Sudden Oak Death' which can affect a range of trees and rhodedendrons – and difficult decisions have to be made.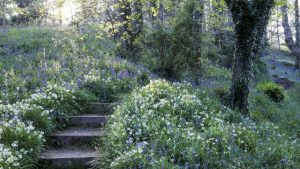 The Summer is a period of maintenance and control, and he gave us ideas for summer colour with a number of nice pictures illustrating how beautiful the garden can be. He did explain that they have to learn to be tough with some of their plants, having to decide what to lift and divide.
He continued to explain about some of the more difficult decisions they have to make in respect of moving or removing established plants and trees for the overall long-term benefit of the garden – it's no good being sentimental! He completed his talk by showing and explaining how they plan their various flower beds.
An interesting talk about a garden which most of the audience know and love!
Nigel Gillingham